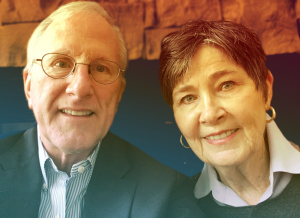 Charles T. Frock was always destined for a career based in engineering, a path he chose at a young age. His decision to major in industrial and systems engineering (ISE) had a lasting impact on his career that he hadn't anticipated and recently inspired Chuck and his wife Nancy to give back to his alma mater.
Frock, who graduated from the University of Florida (UF) in 1971 with a bachelor's degree in ISE, is the retired CEO of FirstHealth of the Carolinas, a private, non-profit healthcare network with a billion-dollar revenue budget and multiple locations throughout North Carolina. When asked to reflect on his undergraduate experience, Frock attributes a great deal of his success in the healthcare industry to the ISE curriculum at UF.
"My education in ISE gave me a strong foundation in analytical skills, prepared me for my MBA degree, and provided an understanding of the sciences, as well as the application of those sciences to bring about change and solutions within organizations. In terms of healthcare, I see ISE as a discipline that can pull together the clinical and business functions for a higher level of performance and accomplishment by bringing a systems orientation that isn't frequently found in healthcare."
The Frocks spent most of their careers in the healthcare field, with Chuck specializing in strategic management and Nancy as a clinician. Throughout their time in the industry, they both recognized inefficiencies in common patient care practices. With the cost of healthcare at an all-time high, they also noticed a lack of effective solutions for cost-reduction.
In hopes of bringing attention to this issue to not only ISE faculty and students, but to the clinical world of medicine and nursing as well as the business side of healthcare operations, the Frocks created the Excellence Fund for Engineering Enhanced Health and Human Care Delivery. This $500,000 gift will support the ISE Department through interdisciplinary research over the span of 10 years, with the overarching goal of enhancing efficacy and cost-effectiveness of healthcare.
UF ISE has recently established a new High-Quality Effective Affordable Lean Translational Healthcare-Engineering (HEALTH-Engine) Lab. ISE assistant professor Dr. Michelle Alvarado is already working on projects that align with the goals of the Frock's gift. Alvarado and her team are developing simulation and optimization techniques for appointment scheduling in surgical dermatology and mental health counseling. In addition to this, the team is also modeling new healthcare policies to reduce hospital readmissions, lower prescription drug costs and improve healthcare cost transparency.
Although this gift supports the ISE department, Frock and his wife also seek to promote collaboration between engineering, health sciences and business to educate others on the impact that such synergy could have on the medical industry. Their hope is to motivate those in other professional fields to appreciate the benefits of an ISE perspective and make contributions to this cause. They also seek to highlight the contribution that ISE's can have on effective and efficient healthcare by promoting awareness among UF faculty and students. Healthcare has been an emerging discipline within the ISE community and Frock believes that there is a large potential for students to utilize their ISE skill set and seek career opportunities in this field.
"So often when people think about engineering or ISE, they think about manufacturing or about making things and doing it for less cost. I personally think the great thing about healthcare that has led me and my wife in this career direction, is that it is a wonderful service that benefits people in ways that are personally satisfying to those that are involved," said Frock. "It is spectacular to have patients benefit from the healthcare that they receive. Many people are motivated by the social good of what they do, and I believe we can accomplish something great by building the case for a strong engineering cost management mentality in the healthcare sector."