University of Florida alums, Mike (BSCEN 1993) and Kimi (BSADV 1992) Cottmeyer and their family have established two gifts for the Herbert Wertheim College of Engineering: a faculty fellowship for the Department of Industrial & Systems Engineering (ISE) and student scholarships for the Department of Computer & Information Science & Engineering (CISE).
The Cottmeyer Family Innovative Frontiers Fellowship will recognize and support ISE faculty member Dr. Elif Akcali with her continuous research focus in manufacturing planning and control, as well as her interests in divergent design thinking. Akcali is an associate professor in ISE and is also a UF Entrepreneurship Faculty Fellow. She received her bachelor's degree in Industrial Engineering from the Middle East Technical University in Ankara, Turkey, as well as her master's degree and doctorate in Industrial Engineering from Purdue University.
Currently, Akcali's teaching efforts are focused on supply chain management, manufacturing planning and control, and creativity. In her classroom, she emphasizes developing mastery in a set of fundamental modeling tools and thinking approaches, and is always challenging her students to think outside of the box and develop creative supply chain and engineering solutions. With help from the Cottmeyer Family Innovative Frontiers Fellowship, Akcali plans to explore the challenges and opportunities associated with the use of lean manufacturing philosophy in software development operations, which will not only help her explore the research frontiers in supply chains for software products, but also incorporates contemporary supply chain practices into her teaching.
This combination of cutting-edge research and teaching is exactly what Cottmeyer and his family envision for the Frontiers Fellowship, which is meant to support a faculty member who is committed to developing new educational materials and who effectively trains and mentors graduate students in research practice.
Cottmeyer, who completed his bachelor's degree in computer engineering at UF in 1993, is the Co-Founder and CEO of LeadingAgile, a management consulting company located in Duluth, GA. LeadingAgile has been included in the Inc. 5000 list of Fastest-Growing Companies in America, and in 2016, it made the top 3 of the Gator 100's List of Fastest-Growing Alumni-Owned or Led Companies in the World.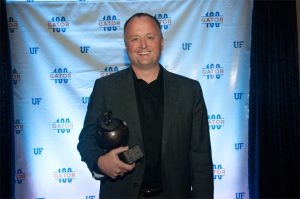 As an active alumni, Mike and Kimi shows their passion for giving back to faculty and students by providing resources that allow them to accomplish their goals. As the Engineering Innovation Institute's Entrepreneur in Residence, Cottmeyer mentors students on product development; business strategy; sales and marketing; social media and business operations.
Cottmeyer and his family have taken this dedication a step further with the creation of these two new gifts.
"Our hope is that the Cottmeyer Family Endowed Scholarship and the Cottmeyer Family Innovative Frontiers Fellowship will inspire students and faculty to pursue continued learning in their fields, further their research interests and develop new innovations. The Cottmeyer Family funds will provide the opportunity for CISE and ISE students and faculty to make an impact on the world, which is the true meaning of being a Gator Engineer!" said Cottmeyer.