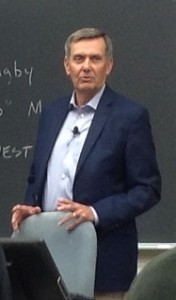 GAINESEVILLE, FL:  There is no doubt that times have changed.  Technology is pervasive in all that we do. However, "I don't think the fundamentals of leadership have changed," said ISE Hall of Famer David Thomas (BS IE 1971, MS ENG 1972) when addressing students in the "Engineering Leadership" course on Tuesday, November 27.
Thomas laid out his keys to leadership for the class:
1. Clarity:  "Get a simple message to communicate," said Thomas.
2. Accountability:  It is all about results. Explaining the reasons for a failure does not make it OK.
3. Competitiveness:  "Do not accept OK work," said Thomas. "Its not over until we wi
4. Sense of balance and humor:  Balance and an ability to laugh are critical so people can relate to you.
Thomas also stressed the ability to communicate and being able to sell. "What you do as a salesman, you do as a leader," said Thomas. "You convince people to take action."  Along with this, Thomas told the students to get experience by selling something — anything — to learn.  He also stressed the importance of sports in his life, as he played baseball at Florida. "If you can't be on a team, you can't lead a team," said Thomas. "I learned a lot from that."
Thomas built a successful career through nearly 30 years at IBM, rising to Senior Vice President/Group Executive of the Personal Systems Group before taking the CEO position at IMS Health, Inc. He now serves on the corporate boards of Fidelity, Fortune Brands and Interpublic Group.
He concluded that "you don't get to decide you are a leader. Other people decide."