Gainesville, FL: The UF Student Chapter of the Institute of Industrial Engineers kicked off their Mentoring Program this semester with a brunch on Sunday, February 5th, co-sponsored by Procter & Gamble.  The program pairs mentors (upper-division ISE students) with mentees (lower-division ISE students) to foster participation and retention in the Department.  In just its third semester, the program has grown from 37 members to 125 mentors and mentees.
Although this is the second brunch for the program, this semester had an interesting twist: several young alumni attended to share words of wisdom via a panel discussion. The young alumni represented a variety of industries and businesses, including Kathryn and Clayton Blackwell (Procter & Gamble), Joe Portella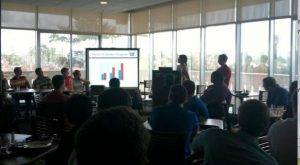 (Disney), David Medoff (Lockheed Martin), Frank Kraemer (Pepsi) and Jessica Hinkle (Harris) along with Alex Brown of the startup Voalte. In a Q&A style panel, the students asked a number of questions, such as: "How do I choose between a large company and a small company?" "What extra-curricular activities do you believe benefited you the most?" and "What do you wish you would have done differently in college?" The young alumni answered questions and stayed to network with the students after the panel was over. The Mentoring Program, led by senior Zeidee Pineda, is planning to continue its relations with the young alumni by directly pairing undergrads with young professionals, further extending the mentoring chain.