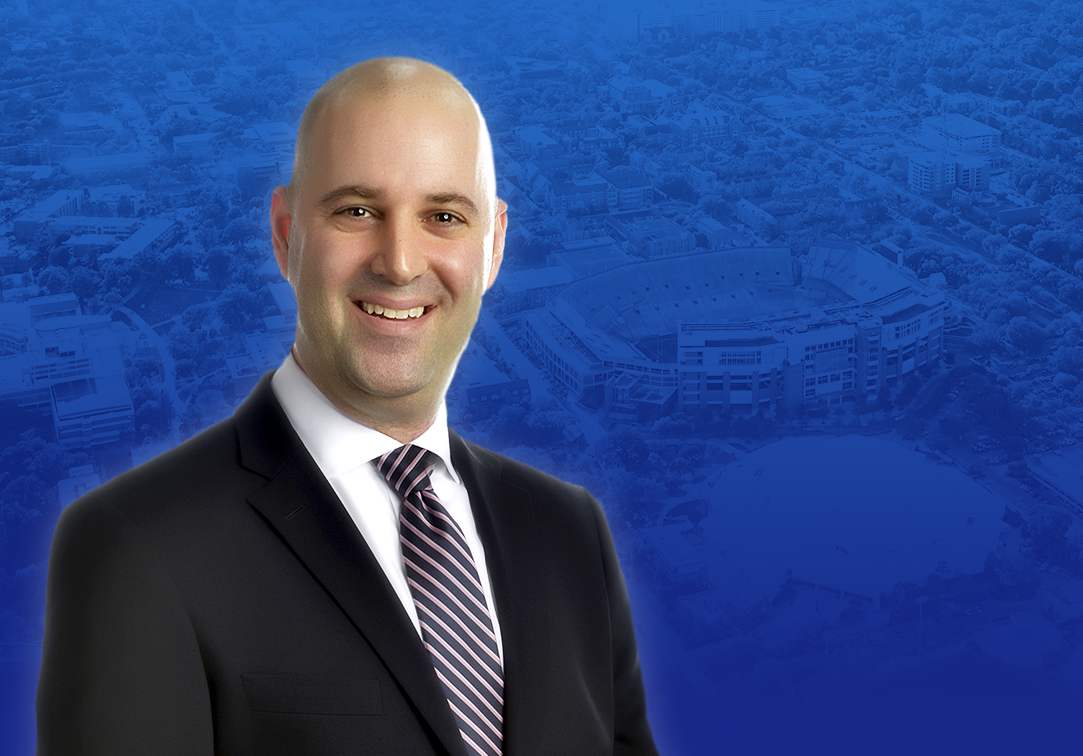 Industrial and systems engineers can be found in almost any industry. Recently, industrial and systems engineers have moved beyond traditional roles in manufacturing and supply chain, and are entering careers in healthcare, finance and consulting. University of Florida (UF) ISE alum Joshua Bass is an example of how a technical engineering background can be applied to any industry a student is passionate about, and he has paved a way for other graduates to follow.
For Bass (B.S. '97, MBA '99), combining his natural skillset in math and science and his desire to have a career in a corporate business environment didn't seem like an option until he came across a joint industrial engineering B.S. and MBA degree program in the UF catalog.
Bass was drawn to UF's balance of academic reputation and campus community. During his time at UF, he experienced many exciting moments on campus, from witnessing major sport wins to joining social organizations, all while balancing a very regimented and demanding course load.
"My years at UF were very challenging and was really the first time I had experienced a curriculum that required me to actually work. In high school, learning seemed to come more naturally to me, and this was the first time I had to sit and study and focus on the material, and I grew a lot from that," said Bass.
Although the curriculum was rigorous, Bass persevered and continued to find a flexible balance between social obligations and his academic responsibilities. While completing his bachelor's degree, he got an opportunity to co-op with an electrical company for three alternating semesters. There, he was a part of an internal consulting group that focused on process optimization for nuclear power plants.
It was this experience that made Bass realize that working in a manufacturing or power plant wasn't the career path for him, and the experience also solidified his interest in corporate consulting. Throughout graduate school, Bass set consulting as his career focus, and after an internationally located internship with a technology company, a career in consulting with an international component seemed like the perfect fit.  He went on to have leadership roles in consulting internationally, then he worked for NextEra / FPL for many years in growing leadership roles, as well as an executive role with a mobility startup.
Bass is now Vice President of Corporate Enterprise Strategy for JM Family Enterprises, Inc., Founded in 1968 by automotive legend Jim Moran, JM Family Enterprises is a diversified automotive company ranked No. 21 on Forbes' list of America's largest private companies with an annual revenue of $16.3 billion. It is also consistently ranked by FORTUNE® as one of the "100 Best Companies to Work For." JM Family has major U.S. operations in Jacksonville and Margate, FL; Commerce and Alpharetta, GA; Mobile, AL; St. Louis, MO; and Irvine, CA. The company is headquartered in Deerfield Beach, Fla.   As the Vice President of Corporate Enterprise Strategy, Bass is responsible for facilitating strategic planning and leading strategic initiatives in the areas of mobility, digital retailing, data and the economy.
During the last eight years at JM Family, Bass has taken on several high-level leadership roles, including Vice President of Customer Services and Vice President of Strategy and Business Transformation. Although these positions have involved different responsibilities and goals, Bass utilizes his leadership and business strategy skills that he gained from the ISE curriculum in everything he does today.
"One of the really cool things about the industrial and systems engineering program at UF was that we had a lot of project-based coursework. There were a lot of times where we had to go out and find a real customer or client and do a project for them. Typically, you'd be put into small groups and you would have to choose certain roles within those groups and eventually, one person would end up taking on a leadership role. This type of requirement prepares you for when you are working on real projects in corporate America. I gained many foundational experiences that have helped me in all of my business roles just from being a part of those special projects in my collegiate years."
Bass credits a great deal of his career success to both the industrial and systems engineering and MBA programs at UF. He advises students to make the most out of their college experience to build successful careers.
"I want to see industrial and systems engineers thrive in any industry they are passionate about, whether that be supply chain, healthcare, energy, insurance, etc. I want to encourage students to gain exposure to all sorts of experiences, intern at different places, volunteer in different areas while you have the time to try new things. Join clubs and be active within the ISE community to find what it is you are passionate about, and just go for it!" said Bass.