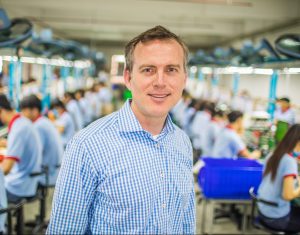 A natural problem solver, Scott Ellyson knew that engineering could be a perfect fit when it came time to choose a college major. His experiences at the University of Florida ultimately led him to focus on industrial and systems engineering (ISE).
During an Intro to Engineering course offered for incoming freshman, Ellyson (B.S. '93) discovered the versatility that an ISE degree provides.
"What attracted me the most to industrial engineering was that it incorporated business as well as engineering, allowing me to speak both languages. I learned the ability to understand technical requirements of a project along with the financial aspects, all of which I use today in my current role," said Ellyson.
Ellyson is the founder and CEO of East West Manufacturing, an offshore contract manufacturing company headquartered in Atlanta, Ga., with operations in North Carolina, China, Vietnam, India and Costa Rica. Currently, East West produces and distributes over 2,500 high quality industrial products for North American and European companies.
"We like to say we make amazing products for incredible companies, products that make the world cleaner, smarter, healthier and safer. We like products that we can help design, and then use our domestic facilities to incubate and bring to market quickly. As these products scale larger, we then transition them to lower cost suppliers that we own and ultimately drive down overall product costs for our companies."
As an innovator, Ellyson has always been eager to discover the most efficient and economical solution to any problem. After graduating from UF, he accepted a part-time job with a quickly growing company that was later acquired by Boston Scientific, where he was responsible for figuring out the overall cost of manufacturing medical devices onsite at their facility. Soon after, Ellyson's ability to think quickly on his feet and develop effective solutions landed him a full-time position with Boston Scientific and his career flourished from this opportunity.
After a couple of years with Boston Scientific, Ellyson transitioned to a consulting role and went to work for PriceWaterhouseCoopers in Atlanta as part of their Supply Chain Logistics group. Shortly after, at just 26 years of age, Ellyson decided to take a leap of faith and start his own manufacturing company in Hong Kong, developing aftermarket products for Toyota and General Motors, among others.
Eventually, Ellyson sought out another challenge in corporate management and became the vice president of offshore manufacturing and logistics for DiversiTech Corporation, a leading U.S. manufacturer and distributor of HVAC components and supplies. It was this role that led him to set up a separate company, as a spin-off from DiversiTech, and in 2001 Ellyson established East West Manufacturing.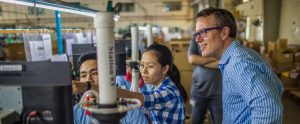 Ellyson credits much of his career success to his academic experience and the technical expertise he gained during his education at UF. He also credits his wife Sarah Ellyson, whom he met at UF, for being extremely influential along the way. He believes it was the communication skills he learned while at UF that helped him become the leader he is today.
"I remember having to give a speech in a general public speaking class, and I was so terrified that I froze up, and it scared me to the point that I realized I couldn't live with that defeat. I started to take more classes, and eventually taught classes on public speaking. Any opportunity I had to speak, I took advantage of it, and that gave me confidence and helped me tremendously when it came to interacting in professional settings."
It's this learned skill, Ellyson says, paired with the undergraduate ISE curriculum and industry experience that will set students up for success as they approach the workforce.
"UF's engineering program taught me how to approach and solve problems effectively and efficiently, which has served me throughout my entire career. One thing I wish I had done a little more of, is work more internships to gain exposure to areas that I was interested in," he said.  "You'd be amazed at how many people are willing to open their doors and help students find their own career path."