Two industrial & systems engineering students were honored with the 2019 Association of Cuban-American Engineers (ACAE) Scholarship.
The ACAE was established in 1961 by a group of Cuban exiles that were determined to help eliminate road blocks for Cuban engineers seeking employment in the United States. Overtime, the founders of the ACAE have expanded their mission to not only help Cuban-Americans, but all Spanish-speaking engineers by promoting engineering education and providing networking opportunities for them.
The ACAE Scholarship Foundation is designed to support Cuban-American and Hispanic undergraduate and graduate students as they complete their engineering education, and is awarded to a select group of students annually.
Angelica Gonzalez and Andrea Zapata-Volkmar were among 12 awardees for 2019, six of them being undergraduate students from UF's Herbert Wertheim College of Engineering.
"Angelica and Andrea are outstanding students in our program and are committed to advancing the ISE community through their service in technical societies. The ACAE scholarships will substantially contribute to their completion of the ISE degree,"  said David Kaber, Ph.D., chair of the Department of Industrial & Systems Engineering.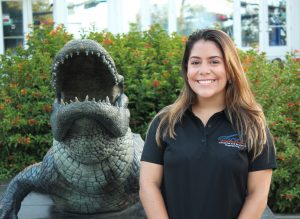 Angelica Gonzalez
Angelica Gonzalez is a third year industrial and systems engineering major at the University of Florida. She is involved with many student organizations at UF, including the Institute of Industrial & Systems Engineers (IISE), and served as IISE's Social Media Chair in fall of 2018.
Gonzalez, who is originally from Caracas, Venezuela, also serves as the Vice President of Community Service for the Venezuelan Student Association (VENSA).
"Being involved in VENSA has allowed me to become more connected to my Venezuelan roots, and has made me realize how truly powerful it is to be a Latina woman in the United States, which makes receiving the ACAE Scholarship such an honor," Gonzalez said.
Currently, Gonzalez is studying abroad in Spain, and in the summer of 2019, she will be working as an industrial engineering intern for UPS in Minneapolis, Minnesota.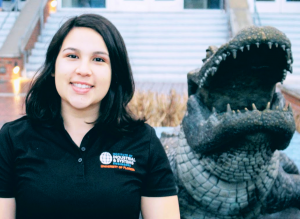 Andrea Zapata-Volkmar
Andrea Zapata-Volkmar is also a third year industrial & systems engineering student. During her time at UF, she has participated in various student organizations including IISE as an Event Manager. She has also participated in the Society of Women Engineers, the Society of Hispanic Professional Engineers, the Engineering Leadership Circle, and is currently a Benton Engineering Council Representative for the ISE department.
In addition to her active student involvement, she can add the ACAE Scholarship to her list of achievements.
"As a first-generation student, as well as coming from a single-parent household, I am extremely honored to receive a scholarship from ACAE and excited to represent my Hispanic community."
Upon graduation, Zapata-Volkmar wishes to one day work for NASA in the data analytics sector, evaluating information collected by technology used in space.