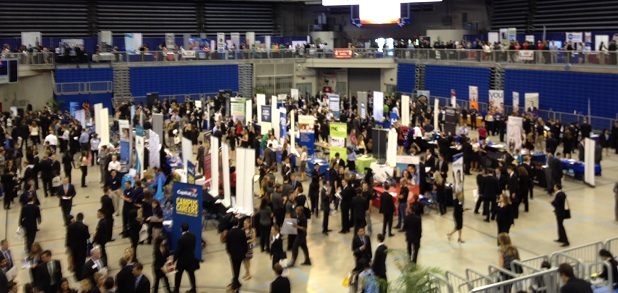 GAINESVILLE, FL: Employers from all across the country converged at the Stephen C. O'Connell Center in search of talent for full-time, intern and co-op positions at the spring Career Showcase on February 5 and 6.
Although Spring Career Showcase is generally smaller than Fall, nearly 250 employers attended the event, up 8% over last Spring.
A number of companies were specifically looking for Industrial and Systems Engineers, including Tyco International, General Electric, Norfolk Southern, Schlumberger, and ThyssenKrupp Elevator, among others. Additionally, many firms were looking for any type of engineers, including Apple, BMW, Cameron, CITI, Citrix, ExxonMobil, Harris Corporation, Microsoft, Mindtree, Northrop Grumman, NVIDIA, Sania National Laboratories, SpaceX, Texas Instruments, and nearly one hundred other companies.