Contributed by Elif Akcali and Patsy Messinger
UF ISE recently welcomed the newest group of OEM students to the department and The Gator Nation during a weekend-long orientation event held on the main UF campus in Gainesville. For those among the class who were already Gator Engineers, it was a weekend of homecoming; for others, taking their first steps as Gator Engineers, it was a weekend of exploration. The newest class, the OEM Class of 2019, includes 40 full-time working professionals from 13 different companies and four states.  Although all of the future meetings for this group will be held in Orlando one weekend each month over a period of 20 months, students gathered as a class for the first time in Gainesville to begin the graduate school experience in an immersive way.  Students complete the 32 credit hour degree program as a cohort, taking the same set of 10 engineering and business courses.
Dr. Lily Elefteriadou, Professor of Civil Engineering and Interim Chair of ISE, welcomed the OEM Class of 2019 to UF ISE and UF campus. "Since its inception, the OEM Program has not only been critical to the accomplishment of the educational mission of our department, but also has been instrumental to the research mission of the department, as it helps our faculty to keep a pulse of the critical industrial sectors in the State of Florida," she noted.
Dr. Elif Akcali, Associate Professor of Industrial and Systems Engineering, Associate Chair of ISE and Interim Director of the OEM Program, greeted the students and said, "We are happy to have you join UF ISE!" As she made some introductory remarks about the program and what lay ahead for the OEM Class of 2019, she reminded them of the importance of work-life balance. She said, "When you walk into the UF Research and Academic Center in Lake Nona in September, please remember what Jack Welch said: "There is no such thing as work-life balance. There are work-life choices, and you will make them and they have consequences." Along the way, she also suggested that they remember to play and have fun.
Throughout the weekend, August 18 through 20, a series of activities encouraged the new students to get to know each other and start building relationships that will carry them through the next 20 months in the program. Among the highlights were a welcome reception on Friday night, an ice-breaker during the Saturday morning session, a dinner on Saturday evening, and a team building session on Sunday afternoon. The welcome reception at the Hampton Inn in downtown Gainesville, where the students were lodged, was the first opportunity that students had to mingle with each other, spend some time with staff members, and meet some of the faculty members. The ice-breaker on Saturday involved sharing one-on-one time with a peer, learning interesting details about each other, and communicating these findings to the rest of the class. The dinner on Saturday evening featured local cuisine, and was a chance for students to relax after a full day of orientation sessions and class, while hearing from a keynote speaker.  The team building session on Sunday afternoon, facilitated by UF Recreation Program, allowed students to start building more connections, while also having fun and problem-solving in an interactive setting.  Some of the team-building activities were designed to reinforce the theme of the orientation weekend, which was "finding balance."  The theme was chosen to underscore the balance of engineering and business courses in the program's curriculum, and also to encourage students to proactively consider how they will organize and manage the various requirements of work, personal and family life, and graduate school.​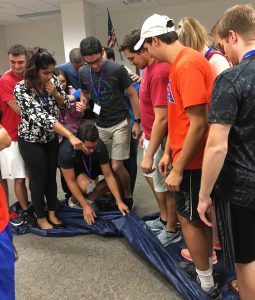 ​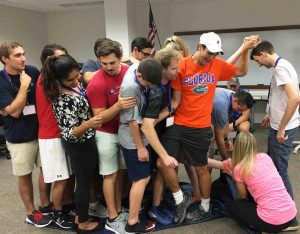 (Pictured above:  A team of OEM Class of 2019 students participating in the team-building activity of "Flip Tarp." The goal of this activity is for the team to flip the tarp completely over while everyone is still standing on it, without any team members touching the ground directly. Flip Tarp requires communication, problem solving, and, of course, team-building.  Nick Martinez of the UF Recreation Program facilitated this exercise and is pictured (seated) in the photo on the right.)
Another important highlight of the weekend was the OEM Alumni Panel session, in which four program alumni shared their insights and answered questions from new students during lunch on Saturday, August 19th.  The panelists were Stephanie Stilson (OEM Class of 2004; Lead in Agency Program/Project Management in the Office for Information Technology at NASA Headquarters in Washington, DC), Scott Hall (OEM Class of 2012; Director of Industrial Engineering at Wyndham Vacation Ownership in Orlando, FL), Robyn Alexander (OEM Class of 2016; Information Security Manager at Wells Fargo Corporation in Gainesville, FL), and Kyle Godwin (OEM Class of 2016; R&D Mechanical Engineer at Medtronic Surgical Technologies in Jacksonville, FL). "From space exploration to hospitality industry, from financial information security to surgical device design and manufacturing, the diverse set of industries represented by the members of the panel is a testament to how broad and versatile the scope of engineering management can be," said Dr. Akcali as she introduced the members of the panel.
Orientation Weekend also marked the first two days of instruction, as the OEM Class of 2019 had its first class in Organizational Behavior with Dr. Phil Podsakoff, Brian Gamache Professor and Clinical Professor of Marketing, on Saturday, August 19, and in Deterministic Methods in Operations Research, with Dr. Jean-Philippe Richard, Professor of Industrial and Systems Engineering, on Sunday, August 20.
OEM cohorts typically include a diverse population of students, and the OEM Class of 2019 is no exception, with a range of ages of 22-51 years, 30 percent female enrollment, and students commuting from as far away as Texas and California. With an average work experience of 5 years, 13 different companies represented, and students from a wide variety of academic backgrounds and professional roles, the classroom discussions for OEM Class of 2019 are very likely to be stimulating and enriching. "OEM 19 promises to be a friendly, motivated, and talented class!" said Patsy Messinger, Associate Director of the OEM Program.
These initial activities and the first classroom sessions helped build bridges for the members of OEM Class of 2019 as they started to forge their own paths and join OEM's network of 700 alumni worldwide and join The Gator Nation.
A new OEM Program offering begins each August.  For more information about the UF OEM Program and future offerings, please visit www.ise.ufl.edu/oem or email.