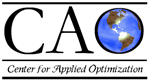 The University of Florida Informatics Institute will host its fourth International Conference on Computational Biomedicine. The event takes place February 16-19, 2017, and is co-hosted by the Center for Applied Optimization.

The event is organized by George Michailidis, professor in the department of statistics and director of the Informatics Institute; and Panos Pardalos, distinguished professor in the department of industrial and systems engineering, and director of the Center for Applied Optimization. Pardalos said the goal of the conference is to help researchers in the field of computational medicine find opportunities for collaboration.
"The key idea is to bring together the research community at the University of Florida," Pardalos said. "There are so many people who don't know what each other are doing."
Online registration is available here, costs $300 ($150 for students) and ends February 10. However, late registration is allowed for an additional fee.
The event draws attendees from beyond UF, with researchers coming from as far away as Greece and Sweden to attend.
The program includes a slate of speakers invited to give plenary talks, and others who are accepted after review of their abstracts. The final schedule will be announced a few days before the conference.
Past topics include data analysis for sleep medicine, tumor metabolism and quantifying brain activity.
One conference led to a collaboration between Pardalos and researchers from UF and abroad focused on brain dynamics.
"I met some of the best collaborators in my life through conferences," Pardalos said.