SAN JUAN, PR:  The Fellow Award of the Institute of Industrial Engineers (IIE) "recognizes outstanding leaders of the profession who have made significant, nationally recognized contributions to industrial engineering," according to IIE.  Professor Joseph Hartman of ISE was named a Fellow of IIE at the 2013 IIE Annual Conference Honors and Awards Banquet on Monday, May 20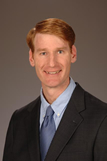 in San Juan, Puerto Rico.  A Fellow is the highest classification of IIE membership.
Hartman received his Ph.D. in Industrial and Systems Engineering at Georgia Tech in 1996 and joined the faculty at Lehigh University that fall.  He moved to the University of Florida as Professor and Chair in 2007.  He has served in a variety of leadership roles affiliated with IIE, including Senior Vice President for Publications, Editor of The Engineering Economist, and most recently, Chair of the Council of Industrial Engineering Academic Department Heads.