GAINESVILLE, FL: Students lined up around the block to enter the Stephen C. O'Connell Center for the chance to talk with recruiters during Career Showcase October 2 and 3.  Over 300 employers were registered for the event, for which Tuesday is defined as non-technical day and Wednesday is technical day.  The event is hosted by UF's Career Resource Center.
The employers specifically seeking Industrial and Systems Engineering majors for full-time, intern and co-op positions included the Air Force, Amazon, AMEC, Anheuser-Busch, Ascend Performance Materials, B/E Aerospace, Cameron, Capital One, Chevron, Chico's FAS, CITI, Citrix Systems, Costa Farms, Crowley Maritime, Cummins, Eaton, ExxonMobil, Federal Energy Regulatory Commission, Firth Rixson Forgings, Ford Motor, GE, Harris, The Home Depot, Infinite Energy, Intel, JCB, John Deere, J&J, Johnson Controls, LHP Software, Lincoln Electric, Manhattan Associates, Medtronic, Navy, Nielsen, Northrop Grumman, Oak Ridge National Lab, PepsiCo, Power Systems Mfg., P&G, RECSOLU, Rehrig Pacific, S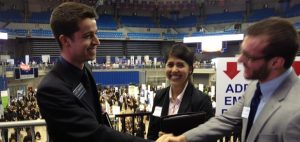 AIC, Schlumberger, Siemens, Southern Company, SV Microwave, The Walt Disney Company and TraceFone Wireless.  Note that the number of companies is up significantly since last spring (21).
A further group of firms were interested in engineers of any and all majors.  These included Altavian, AxoGen, CSX Technology, Draper Lab, Epic, FairWarning, Gleim Publications, Granite Services, Honeywell, Jacobs, Louis Dreyfus Commodities, Microsoft, Millennium Engineering & Integration, MindTree, NAVAIR, Performance Software, Pratt & Whitney, RIM, RTI Biologics, Sandia National Labs, Space Exploration Technologies, SumTotal Systems, Target, Teledyne Oil & Gas, Trane/Ingersoll Rand and Vitera Health Care.
Traditional consulting firms which hire ISE majors, such as Accenture and Gartner, were on hand at showcase.  Finally, a number of firms looking for logistics or operations help included ADT, PLS Logistics Services, R+L Truckload Services, Total Quality Logistics and Walmart.