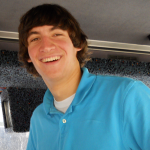 GAINESVILLE, FL:  Aidan Augustin, an ISE student and co-owner of the company, Feathr, will present in the GAIN Monthly Luncheon Speaker Series on Wednesday, September 26th, at 11:30 a.m.  The luncheon will be held at Carrabbas' Italian Grill.
Feathr is a smartphone application for interactive digital business cards that can be shared and managed straight from your mobile device. Aidan and his roommate Neal co-founded the company and launched it at Startup Weekend Tallahassee. The company had enough momentum that Aidan and Neal decided to move into the Florida Innovation Hub tech incubator, where the company now employs four full-time and four part-time students.
Aidan has been involved in entrepreneurship and web design since 2010, gaining experience in leading business teams and handling a supervisory role.  He became an ambassador for the Center for Entrepreneurship and Innovation, and worked as an intern in Silicon Valley, all experiences that have helped him in his work to found his own company.