ORLANDO, FL:  Taking advantage of the short commute, seven ISE undergraduates Harrison Sims, Dania Durnas, Elizabeth Gillett, Kathryn Burns, Ashley Papagno, Jarily Alvarez and Oscar Arias (from left to right) attended the Institute of Industrial Engineers Annual Conference in Orlando from May 19 through May 23.  The students attended sessions and networked with students from across the world.  A number of graduate students also attended to discuss their research.
ISE Undergraduates Stephanie Bagiardi, Gillett and Daniel Schra were awarded scholarships from IIE during the conference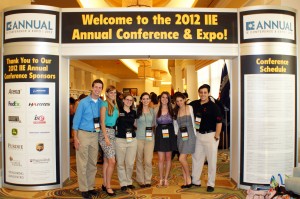 .  The winners were announced at the Honors and Awards Banquet on May 21.  Bagiardi was awarded the Dwight D. Gardner Scholarship, Gillett the Harold & Inge Marcus Scholarship and Schra the IIE Council of Fellows Scholarship.  Bagiardi has already performed three internships with HD Supply, Disney and Amazon.  Gillett enters the graduate program this fall after interning with BAE Systems in York, PA.  Schra plans to graduate in 2014 and recently interned with Lockheed Martin.