Date/Time
Date(s) - January 28, 2022
11:45 am - 12:35 pm
Location
406 Weil Hall
Categories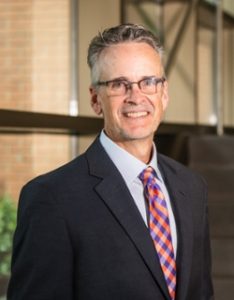 Kevin Taaffe, Ph.D.
Harriet and Jerry Dempsey Professor & Department Chair in Industrial Engineering
Clemson University
Abstract Title: Improving Patient Safety, Patient Flow and Physician Well-being in Emergency Departments
The Emergency Department (ED) is a critical segment in the US health system where patients receive care for various conditions, ranging from minor non-urgent medical conditions to life-threatening emergencies. As society's health care safety net, patients with no other options for medical care access the ED because the federal government mandates an ED to provide screening and stabilizing care to all patients regardless of their ability to pay. According to the latest Centers for Disease Control and Prevention (CDC) reports, approximately 140 million visits are made to US EDs annually (and around 50% of hospital admissions), making it an essential patient entry point into the health care system. Apart from the ever-increasing volumes of patient arrivals and diverse medical conditions of patients seeking care, any other natural disaster and pandemic add a significant burden to EDs. Our research focuses on three critical aspects of the ED, improving patient flow, patient safety, and physician well-being in the ED. Handoffs, or transfer of patient care from one physician to another, are a common occurrence and are predisposed to errors as a result of interruptions and high workload. Moreover, the Institute of Medicine reported that a majority of treatment delays are a result of communication errors associated with a shift change. Utilizing a novel simulation modeling approach to represent the physician and patient activities in the ED, we identified physician shift policies that can improve patient safety and patient flow by reducing handoffs and patient time in the ED. Further, we used a mixed-integer programming model to propose shift schedules that minimize the combined cost of handoffs, patient wait times, and physician staffing costs. Finally, after collecting over 100 hours of physiological data from the physicians working in the ED, we developed a machine learning model to detect the early onset of stress among ED physicians.
About Kevin Taaffe, Ph.D.
Kevin M. Taaffe, Ph.D., the Harriet and Jerry Dempsey Professor and Department Chair in Industrial Engineering at Clemson University, has 30 years of industry and academic experience. After receiving B.S. and M.S. degrees in Industrial Engineering from the University of Illinois, Dr. Taaffe worked in the transportation logistics industry (American Airlines, Sabre) for eight years, before returning to academia to obtain his Ph.D. from the University of Florida. Dr. Taaffe's research interests include the application of simulation and optimization in healthcare, production, and transportation logistics. Dr. Taaffe focuses on healthcare logistics problems that range from patient flow to operating room management to clinical space capacity management. He has worked with clinicians, administrators, managers, and support staff to identify and solve problems related to the patient and staff experience on the day of surgery or during their visit to the emergency department. Dr. Taaffe began his career working as a transportation planning consultant, and there is a logical research thrust that has resulted from this experience. He has always enjoyed working on industry-sponsored projects that bridge the gap between theoretical research and application. This academic/industry collaboration is a theme of Dr. Taaffe's interest, as can be seen by his named professorship. Harriet and Jerry Dempsey provided this professorship to strengthen the research ties between Clemson University and Prisma Health.  Dr. Taaffe has been a Faculty Scholar within the Clemson University School of Health Research since 2015, and he is active in promoting interdisciplinary health research across campus. In addition to his academic and research interests, Dr. Taaffe has served in senior leadership roles within the Institute of Industrial and Systems Engineers (IISE), where he helps students and professionals get the most out of their professional organization.
To attend this seminar virtually:
https://ufl.zoom.us/j/97587644164?pwd=b0lvUmlTNUJhQ01SWFRXTDNpaERNUT09
Meeting ID: 975 8764 4164
Password: 671640