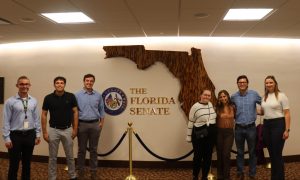 From left to right: FL DMS Employee, Samir Abdalla, Grant Renner, Ewa Wiercioch, Ariana Ortega, German Parra, Heather Bray
Last Spring, students from the Department of Industrial and Systems Engineering (ISE) at the University of Florida were invited by the Florida Department of Management Services (DMS) to tour the State Capitol building and additional government facilities. The invitation followed the completion of three ISE senior design course projects in which ISE partnered with DMS.  
The ISE Senior Design course consists of a team-based project requiring students to work to solve a client-driven corporate problem by applying ISE methods, such as work measurement and design, data analytics, simulation analysis, decision support tools, statistical analysis and ergonomics. This year, DMS sponsored three senior design projects, all seeking different solutions to a variety of problems.  
One of the projects focused on "Workforce Experience" and challenged students with the task of streamlining annual report preparation by the DMS Division of State Human Resource Management team. Students were asked to then automate the process by developing a user-friendly dashboard system that linked to data in real-time.  
Another project focused on "Utility Bill Optimization," which gave students the opportunity to work with the Division of Real Estate Development and Management team within the DMS. The team investigated how to increase efficiency in capturing data and details from utility bills. The evaluation involved piloting different software solutions that consider licensing, security, costs, workflows, and support needs.  
The "GIS Mapping" project worked on optimizing the use of maps, developed by internal divisions within the DMS. The project included integrating and compiling large data sets to develop heat maps of personnel hubs and concentrated communications to be used by the DMS Office of the Secretary for future planning in disaster recovery efforts.  
ISE students from each of the three teams were invited by J. Todd Inman, the Florida Secretary of Management Services, to visit the Florida Capitol in April 2022. Samir Abdalla, Heather Bray, Ariana Ortega, German Parra, Grant Renner, Pierce Statham and Ewa Wiercioch all attended the visit in Tallahassee, where they received private tours of the senate and house rooms, the Capitol Museum, the State Emergency Response Team center, and much more.  
"My teammates and I had such a great experience working with DMS. They were very involved throughout the entire duration of our project and extremely helpful in guiding us through their project needs, even going as far as bringing us into DMS facilities so that we could better understand the implementation of our project. The final GIS Dashboard we provided was a portrayal of our team's hard work, and DMS's consistent feedback enabled us to create a wonderful result," Ortega said.