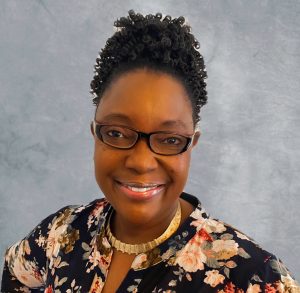 The road to success isn't always easy, but Consuela Smith finds inspiration in the little things to continue to strive for greatness. Whether it's comforting words from family or finding ways to give back to her community, she continues to accomplish her goals while motivating others around her to accomplish theirs.
Smith (MSISE '11) is currently a Senior Engineering Manager at L3Harris Technologies, where she manages a team of software and electrical engineers. In this role, she is responsible for teaching, coaching, and mentoring people at all levels working within the company.
"This role is so fulfilling in that I can contribute to our company to make sure we have a diverse workforce. I can also contribute by ensuring we have the best trained and most equipped engineers so we can do our best work. This is the kind of work I envisioned I would be doing when I got my engineering management degree and MBA. This is what I was striving for," said Smith.
In addition to receiving a B.S. and an M.S. in electrical engineering from Florida Agricultural and Mechanical University, Smith attended the Outreach Engineering Management (OEM) program at the University of Florida. The OEM program is a master's program in the UF Department of Industrial & Systems Engineering offered to working professionals with a concurrent option to receive an MBA through the UF Warrington College of Business.
Completing this program was one of the many challenges Smith faced while moving up in her career. Balancing a full-time job, raising a family, and consecutively pursuing two master's degrees wasn't an easy feat. Despite juggling multiple roles, Smith knew that hard work and dedication were required to achieve success in everything she did, including her career.
"It was extremely difficult to come back and get into an education mindset. There were so many things happening at once that I had to push through, but I think this experience is a mirror of how I've felt throughout my career. I do feel like I am five years behind my white female peers, as I move up the ladder. It's challenging to find the drive to keep going, but while I was in the program, I began to see the benefit of my resilience and felt the need to keep pushing, and I use this motivation still to this day," she said.
Smith's tenacious spirit isn't the only thing that motivates her. No matter what goal she's pursuing, there is always one voice that remains constant in the back of her mind. Smith's mother, who passed away in 2014, was one of her biggest inspirations throughout her life.
Smith's mother had an entrepreneurial spirit, one that she tried to instill in Smith from a young age. She became pregnant with Smith's sister when she was very young and wasn't able to finish high school. As a result, she learned a trade and eventually opened her own sewing business. Growing up watching her mother overcome these challenges gave Smith the fire to do the same thing.
"She was so hard on us growing up, but I got used to her standard. When I went to college, I worked to meet her standard, and when I began my career, I did the same thing. People tell me all of the time I'm too hard on myself, which I don't think is true, I think I just set higher goals for myself," said Smith.
This mindset has allowed Smith to get involved in her community to not only help others to achieve their own success but to also gain more experience in mentoring and leadership. She works with many non-profit organizations, where she gets the opportunity to step into a leadership role and set a vision of her own. Through volunteering, Smith is learning new skills that she can eventually apply to her position and bring to L3Harris.
Overall, Smith is optimistic about the future of her career as well as the engineering discipline as a whole.
"There is much more awareness of diversity, and there is an extreme value in the many perspectives that Black women have in technology and in leadership," she said. "Black women are doing amazing things, which is opening up doors and creating space for me, as well as others to succeed."
Just as her mother did for her, Smith hopes to inspire the future generation of engineers and remind them to continue to work hard to reach their full potential.
"If I could give students any advice, it would be to strive for excellence and to do excellent work. You can't argue with excellence. I would tell them we need them, and we are here to support them. They are the right generation for the times. I hope to encourage them to utilize all of the things they have had to endure to make things better for the future. I am excited for our next generation of engineers, and I am eagerly awaiting the next big thing that I know they are going to accomplish."