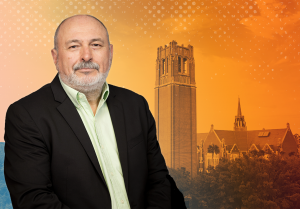 Panos M. Pardalos, the Paul and Heidi Brown Preeminent Professor for the Department of Industrial & Systems Engineering (ISE), has received a 2018 University Term Professorship. The professorship is for three years from 2018-2021. Pardalos was recognized for his record of achievements in 2015-2017.
Pardalos has been with the University of Florida since 1991 and is currently the director of the Center for Applied Optimization. In 2005 he was named a Distinguished Professor, and in 2014 he was named the Paul and Heidi Brown Preeminent Professor of ISE. He is also an affiliated faculty member of the Computer & Information Science & Engineering Department, the Hellenic Studies Center, and the Biomedical Engineering Department. He is a leading expert in global and combinatorial optimization, or "Big Data," and his current research interests include network design, optimization in telecommunications, e-commerce, data mining, biomedical applications, and massive computing.
"This type of recognition motivates me to continuously increase my efforts in research. I want to express my gratitude to the University for the Term Professorship and for allowing me to serve the mission of the Institution," Dr. Pardalos said.
The University Term Professorship was established in 2016 and is presented to 250 eligible faculty members annually. Selection of University Term Professorships is based on review by either a faculty advisory committee and/or the department chair and approved by the dean. Dr. David Kaber, Chair of the ISE Department, nominated Dr. Pardalos for this recognition.