OEM Presents First Ever Outstanding Faculty Award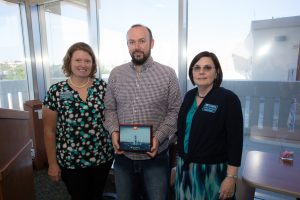 On Friday, May 4, 2018, the Department of Industrial and Systems Engineering (ISE) celebrated the Outreach Engineering Management (OEM) Program's 20th graduating class.
Forty-two graduates and their families were invited to a celebratory dinner before their commencement ceremony, where they heard encouraging words from ISE's incoming chair, Dr. David Kaber, as well as from their peers in the program.
What was particularly special about this cohort was that they collectively voted on one inspirational faculty member to receive the first ever OEM Outstanding Faculty Award. After receiving responses from students, the program presented the award to Dr. Jean-Philippe Richard for his contributions and excellence in teaching and service.
"Dr. Richard guided us through our first class in the OEM program and set the foundation and expectation for our learning. He explained challenging topics using real world examples to ensure higher levels of comprehension, and took an interest in the students' mastery of knowledge," said Mike Shields, an OEM 2018 Graduate.
Richard, who teaches the Deterministic Methods in Operations Research course during the first semester of the program, proudly accepted the award and gave a brief speech thanking the students.
"Teaching for OEM has challenged me in so many ways. It challenged me to not only be a better teacher, but also to be relevant for my students."
The ISE Department congratulates Dr. Richard on his outstanding contributions to the OEM Program.