Dasburg (BS IE '66) Gives Gift to College of Engineering
GAINESVILLE,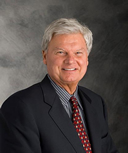 FL:  An unexpected meeting in an ice cream shop prompted a $1.5 million gift to the College of Engineering, as reported in the Ocala Star Banner on Monday.  John Dasburg (BS IE 1966) and his wife, Mary Lou, happened to stop for ice cream in the same local shop as UF President, Bernie Machen, and his granddaughters.  As the only patrons, they began a conversation, and due to President Machen's enthusiasm surrounding the school's recent appointment as the state's "pre-eminent" university and the campaign to promote UF to "Top 10" status, Dasburg chose to proceed with the gift of an endowed chair in the College of Engineering.
The University is slated to receive $15 million for the next five years to attract top recruits for new faculty positions.  President Machen has pledged to match the state funding with private donations, mainly through the funding of endowed chairs for faculty.  The Dasburgs believe that "A great University must have great faculty.  Students are attracted by a great faculty.  That is really where a university's reputation is established."  The John H. and Mary Lou Dasburg Chair in Engineering is the third chair the Dasburgs have funded for the University, which shows their commitment to aiding the University in bringing in the best faculty available.