Menke (BIE '56) Not Slowing Down in Retirement
GAINESVILLE, FL:  Robert Menke  (BIE 1956) may have recently retired from his position atop Bankers Insurance in St. Petersburg, but you'd never know.  He still heads into the office on a regular schedule to work on projects as a consultant.  He took time from his schedule to address students in the Sales Engineering Seminar on April 3.  After graduation from UF, Menke had intentions of going to law school — but the draft and a new family put that on hold, permanently.  He went into the insurance business and after doing some research, realized that he wanted to get into the corporate side.  "I learned that I wanted to be at least a partial owner," he told the students.  He acquired his first company in 1958, launching a career in which he, and his colleagues, built businesses in flood insurance, home warranty,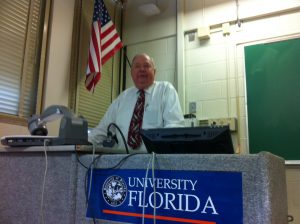 and insurance information tracking, among other segments.  Reflecting back to before his schooling, Menke noted that "I never had an idea that I would be peddling insurance of any kind."  He told the students to (1) know what they are up against; (2) be prepared for problems with solutions; and (3) don't get discouraged.