OEM Program Application Deadline Fast Approaching: Info Sessions Ongoing

Gainesville, FL:  The next offering of the Outreach Engineering Management (OEM) master's degree program will be held in Orlando, with classes beginning this August.  The deadline to apply is March 14.  OEM is a 20 month program combining graduate level ISE and MBA courses.  Students meet face to face for classes one weekend per month, and faculty travel from Gainesville to teach.  For many students, OEM is a solution to the problem of whether to get a technical master's degree or an MBA.  Students who decide that they want both degrees can opt for a concurrent degree option, which requires only 12 more months of coursework (32 months for both degrees).  The program is well established, with over 450 alumni.  Information sessions are ongoing. Dr. Joe Geunes, shown leading a recent information session in Orlando, is a the Program Director,  Ms. Patsy Messinger is the Associate Director and Ms. Tammi Gibson in the Program Assistant.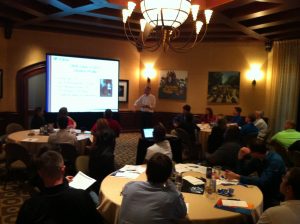 See the OEM website for more details.